"Supporting New South Wales Feel New Tourism."
The 'Feel New' campaign aims to attract more visitors to New South Wales' many attractions.
Sydney, Australia – 21st June 2022 – The "Feel New" marketing campaign is the first of its kind in over a decade. It was originally launched on October 22, 2021 by Destination NSW, who felt building an inspirational brand was key to rebuilding the New South Wales visitor economy. One of the cornerstones of the rebranding is to highlight what sets NSW apart from other destinations. It focuses on the unique nature of the state and its diverse cultural offerings, which travelers will remember long after their visit is over. Harnessing the transformative powers and rich emotional benefits of travel in New South Wales, the campaign promises a collision of natural wonder and vibrant culture that will energize visitors.
The 'Feel New' marketing campaign is an important part of the NSW Government's Visitor Economy 2030 Strategy. This will provide a roadmap to help all industries involved in the visitor economy recover from the impact of drought, bushfires and COVID-19 and grow into the future. The strategy sets out a bold vision for NSW to be the leading tourism economy in Asia-Pacific by 2030. A key strategic pillar is to invest in the development and launch of a new brand to promote Sydney and NSW through impactful new marketing campaigns.
Minister for Business, Investment and Trade, Minister for Tourism and Sport and Minister for Western Sydney, Stuart Ayres, hailed the marketing campaign. "It invites everyone to get out and enjoy the beauty and wonder of NSW and promises a return to the excitement and adventure we all need to feel again," Mr Ayres said. "Our NSW Visitor Economy Strategy 2030 sets a very clear goal of being Asia-Pacific's leading visitor economy."
The tourism industry has welcomed the "Feel New" marketing campaign. After several difficult years, the investment and support has helped many companies large and small. Magdalena Kusyk, Marketing Director of Alpha Car Hire, was delighted to learn of the new strategy. "New South Wales has so much to offer visitors, containing some of the most iconic tourist destinations in the world. It's great to see the government investing in marketing the attractiveness of the area.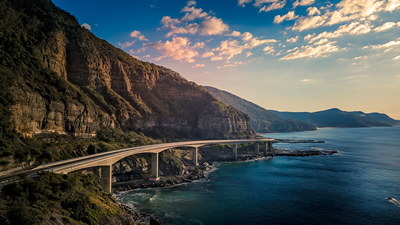 After the initial launch, the second phase of the marketing campaign followed in December 2021, with the slogan "Feel New Sydney". The aim of this stage is to encourage new and regular visitors to Sydney and beyond. A flurry of tactical activity to boost visitor numbers in New South Wales and Sydney, marketed as "Renew", followed closely, with more than 100 products, experiences, destinations and regions.
The latest iteration of the marketing campaign is "Feel More, Live More", which is a partnership between Destination NSW and the Caravan & Camping Industry Association (CCIA) NSW. It will promote caravan and camping holidays in New South Wales. The state is already very popular with campers and holiday parks are the first choice of accommodation for tourists. The caravan and camping industry has played a vital role in the New South Wales economy, with over 3.5 million caravan and camping trips made in New South Wales the year last, despite restrictions due to COVID-19.
"The 'Feel More, Live More' campaign shows why caravan and camping holidays are so popular in NSW," said Mr Ayres. "Camping and caravanning is a great way to appreciate the beauty and wonder of NSW. We know that visitors now want more than a list of things to see. They want experiences that inspire, amaze and delight them. revitalize and staying at one of our state's fantastic holiday parks is the perfect way to feel new.From the beach to the bush and everywhere in between, NSW is spoiled for choice, and I know visitors everywhere are guaranteed to have a memorable experience.
Ms Kusyk agrees, saying: 'NSW is a fantastic state to explore with great road trips. Many of our Alpha Car Hire customers tell us how much they've enjoyed their camping trips, whether they're coasting along the legendary Pacific Coast Drive or heading up the Greater Blue Mountains Drive. NSW is a beautiful part of the world and camping really lets you explore it."
With further phases of the 'Feel New' marketing campaign to come, Destination NSW hopes the success of the strategy will continue.
Media Contact
Company Name: Alpha Car Rental
Contact person: Madeleine Kusyk
E-mail: Send an email
Call: +61 1300 227 473
Address:511B Nudgee Hendra Road
Town: Brisbane
State: queensland
Country: Australia
Website: https://alphacarhire.com.au